Back To Our Services
Fences are often considered the best solution to most of the problems with your yards. Well if you are encountering the same problem then you have to nothing but just get our driveway gate company's help from our Lakewood contractor. We provide you good solutions for your fencing problems by offering you a various range of services from our fence servicessegment of our company. We manufacture the wrought iron fences of all types. We also offer to give you some help with the security services like the security bars, grills, Window bars and wooden gates. We not only install these bars but we also provide you with their repair and replacement services. We also offer this service to you from the ready bunch that we have and if they don't solve the purpose then we customize these wrought iron fences for you. Welding is one of your most important services that many of the gate making companies doesn't provide you. We provide with all the different types of gates like the automatic gates, the electric gates and the manual gates. Not just that our services are offered to you 24/7 emergency repair service.
We have excellent training and the competence to fix gates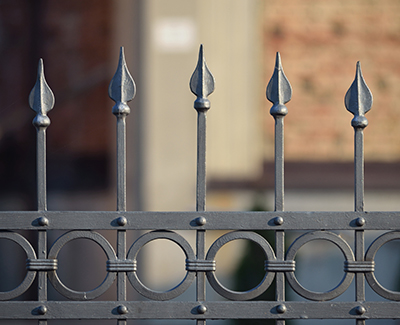 No matter what problems or disasters strike, our company is always available to provide complete gate repair in a professional and time-efficient manner. Whether there is a need for fixing rusty steel panels or malfunctioning electric operator, we have the right solution and we will implement it on the spot in no time. There are several factors which make our repair service a top choice. These include expertise, dexterity, precision and speed. All of our technicians are knowledgeable, skilled and fully equipped with advanced tools. Our gate installation service is based on excellent organization and perfect accuracy for delivering the best possible results. In order to avoid many serious issues, use our comprehensive maintenance services which includes care, inspection, testing and preventive fixing.
The wrought iron services that are provided by our company are considered to be the best in the industry and they are most sought after by folks wanting to add a special touch to their fences. There are several types of fences that are provided by the wrought iron fence company in Lakewood like:
* Wrought iron fences
* Pool fences
* Commercial fences
* Residential fences
All these types of fences could be used for the different needs of people. The moment you place an order with our company then we would send a fence contractor to your home as soon as we can. When we make these fences for you, you will have to decide on a lot of things. Like how tall you want it, how wide you want it, what kind ofornamental work you want on it, among a lot of other decisions. Our Wrought iron fences company in the city of Lakewood can also do fence repair, post and picket fence installation or repairs. We can also repair or install block pillars. Our fence contractors can also do welding services. We are the company to call for all of your wrought iron fences services.
Our wrought iron fences company in Lakewood also will do any other repairs or installations involving fences or gates.Our company has been around for many years and we have gained the reputation as being dependable and affordable. We always go above and beyond your expectations in every service that we do for you. Every one of our contractors are well trained in all areas of fence and gate services and will do all they can to make sure you are completely satisfied before they leave your location. When we come out and look at the work that you want done we will give you a free estimate. We will make sure you agree on everything before you even start. Call us today to see why we are the best.
Back To Our Services